August 9th, 2011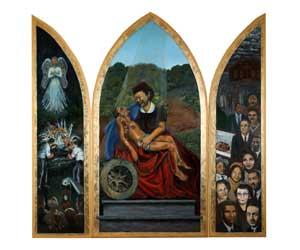 International, local artist, Sandra Hansen, is announcing the completion of the monumental piece, "The Emmett Till Memorial Triptych." It can be seen at Fountain Street Church (24 Fountain Street Northeast, Grand Rapids, MI 49503-3191 (616) 459-8386) during the ArtPrize Festival., September 21 to October 9 in Grand Rapids.
The Emmett Till Memorial Triptych, stands over nine feet tall and eight feet wide, and tells the story, of the torture and murder of fourteen year old, African American, Emmett Till on August 28, 1955. A Chicagoan, Emmett was visiting family in Mississippi when his cousins dared him to whistle at a white woman. He was then kidnapped, severely beaten, shot dead, and thrown in the Tallahatchie River.
The Emmett Till Memorial Triptych references a Christian church altar piece. Instead of showing Christ dying for the sins of all humans, Emmett Till is shown as a victim of a lynching whose death brings life to the Civil Rights Movement. The left panel is a Crucifixion scene with Emmett's lifeless body, weighted down with a cotton gin fan, being thrown into the Tallahatchie River. In the center panel, his mother, Mamie Bradley weeps in a pose similar to Michaelangelo's Pieta. Ms. Bradley refused to let her son be forgotten and instead held an open casket funeral, attended by up to 50,000 mourners. The right panel shows the Resurrection scene with the river turning into the leaders and participants of the Civil Rights Movement. The backsides of the two side panels have full life paintings of Rosa Parks and Martin Luther King Jr. (not shown) welcoming people into the Civil Rights Movement on the dawning of a new day.
This is the third year for ArtPrize, which has been wildly popular, with expectations of 500,000 people attending this year. There is a large people's choice award of $250,000. This year there is also a juried competition.

April 27th, 2010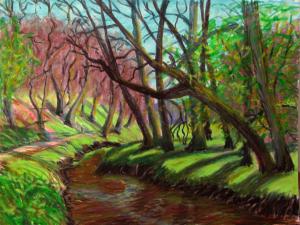 Spring is finally here in Sweden! It has been very cold here, too cold to paint outside much. As you may remember from my last email I came to Sweden to paint and to teach painting classes. The painting classes covered my airfare and some more but wouldn't cover all of my expenses.

My painting classes are on Wednesday nights in Torna Hallestad in Sweden. I have a place to stay with a friend there for that night. But for the rest of the week I go "Couch Surfing," usually three days at each house.

Couch Surfing is a way of making friends all over the world through the internet. You can find places to stay and new friends in other countries with the same interests as you. All of the members have one interest in common and that is meeting new people. Since I needed to find cheap or free housing in Sweden and Denmark, I joined Couch Surfing a few months ago and posted a profile. Then I joined some groups like the artist group. I looked at the couch surfing map and found artistic people in the areas that I wanted to go. Then I read each of the profiles to see if they looked like people I wanted to know . For safety's sake I checked the references that other people had posted about them. If I liked what I saw I sent them an email asking them if I could stay on their couch for a few days. Actually I am not so fond of couches so most of the places I am staying I could see in the profile that I would have a bed and sometimes even my own room. I then sent an email to see if they would let me stay with them for a few days.

My couch surfing experiences have been great fun.

My first experience was on the island of Mon in Denmark. There I stayed in a thatched house out in the country. Lambs were going to be born any day, and my hosts took me around to see the chalk cliffs next to the turquoise waters. One of their rams was not a very nice sheep and kept butting the owner so he was slated to become lamb steaks. His picture is on the top right. I exchanged a painting of Sweden for a beautiful white and gray lambskin (not the ram's).

Then I went to Roskilde where I had been invited by a couch surfer to be a concert artist. I got to hang my paintings on a wall and for two hours about 250 people listened to chamber music and looked at my paintings at the same time. The concert was followed by a delicious Danish meal with huge slabs of bread, heaps of shrimp, chicken, roast beef, and chocolate walnut pie.

Next on the agenda was Shimrashamn where it was beautiful but too cold to paint outside. Not that I didn't try. The weather would be sunny and beautiful in the morning and by the time I was out on a bike surveying the coastline for possible landscapes it had turned bitterly cold. I finished the painting, Reed Wave just as the hail started falling. So two afternoons I went to the public sauna and steam rooms and got toasty warm.

In Malmo I stayed with a famous Swedish journalist. It was still very cold so I went to the giant skateboard park and took pictures of the kids making leaps on their skateboards. I got some good photos and painted one of them. I will post it soon, but it isn't quite finished.

In Benstrup, Denmark my new couch surfing buddy, Aviaja, lives at an artist collective. Most of the artists re musicians. But the weather is finally turning warm enough and pleasant enough to paint outdoors. So the last two paintings on this page are from Benstrup. Aviaja has a masters degree in eskimology and is an eskimo herself from Greenland. One evening we went to an "opera." It was really funny as there were a number of improvisational skits with two people. One would be an opera singer and the other a dancer. They also had very silly costumes on. Two referees in orange and black striped shirts would give them silly stories and the opera singer would sing and the dancer would dance to the story. Bravo!! Afterwords there was rock music. I took some photos which I hope will turn into paintings. This was all put on by students doing collaborative work at various colleges.

Some of you may remember Yuki, a foreign exchange student from Tokyo. She is going to come visit me in Sweden for a week and we are going to go couch surfing together.

The big news is that my son, Steven is going to get married in a year to Jamie. It will be up in Fairbanks, Alaska where he is living.

Well, that is all of the news in Lake Woebegone where the men are good looking and the women above average. I hope you are all in good health and spirits. Write me and say, "hello."
July 13th, 2009
When my week in Cambodia was up, I spent a day or two in Hanoi . Tours to Ha Long Bay, Sapa (where the Hmung people live) and the Mekong Delta were very cheap so I booked them rather than planning my own travels. Ha Long Bay was incredibly beautiful and it was everything I could have hoped for. We slept on the boat, went cycling, kayaking, went in a cave, saw more floating fishing villages and a pearl farm and I climbed a mountain. The second night I stayed in a palm leaf bungalow and thought that I had landed on Gilligans Island. It was so beautiful and charming. When the tide went down we looked for seashells and crabs.

Sapa is the town in the mountains where the Hmoung people live. The mountains are absolutely beautiful with their vibrant green rice paddy terraces. Many of the Hmung still wear traditional clothing and live in their traditional houses. The women constantly embroider things to sell to the tourists. Many of the Hmoung grow rice, have some animals, but they also have few ways to earn money. While primary education is free it only runs about 4 hours a day. Secondary education runs about $350 a year including books, uniforms and school fees. Most people cannot afford this so children stop school at 8th grade.

Our guide, Su came from a family of ten children and often didn't have enough food to eat when she was growing up. She taught herself English and joined the homestay organization. The homestay organization gave her and her husband a loan to finance the two room, two story, brick house that her husband built. They and their baby had only moved in two weeks before. She was paid approximately $3 a day per person which Su felt was a fair wage. Her husband was unemployed since he had spent a few months building their house. He used to offer rides to people on his motorcycle for money, sort of a motorcycle taxi service that is very common here. Su was hoping that he would also become a guide as well. Their extended family lived in the house behind them and sold fresh tofu and rice. Five of us tourists stayed overnight in the upstairs room. We each had a foam mattress, sheets, cozy blankets and mosquito net. Our dinner consisted of garlic French flies, rice, noodles, spring rolls, chicken and pork and vegetables. It was delicious.

When we went hiking from one village to the next Hmung women would follow us and say, "Buy from me, buy from me." They were not selling based on showing us their goods but rather based on being friendly to us. Most of them had enough English to ask us our name, age, marital status, and how many children, and to show us the embroidered pieces that they sold. They were very sweet and friendly and we liked making friends with them.

The Hmong women looked out for each other. When I wanted to buy 2 pairs of earings from one woman, she insisted that I buy one pair from her and the other from her friend. They would walk with us for miles though and we would wonder about the expectations that they had for us to buy their goods. Su told us that if they didn't make a sale sometimes they would go home and cry and say that they hated all of the foreigners.

The mountains were very slippery from recent rains and many of the tourists had difficulty walking on them as they were steep as well. These women became absolutely essential to many of the tourists however as they lent a hand all of the time to help with the walking. I was more sure footed than most tourists yet still needed help occasionally. At the end of the day we felt obliged to buy their goods whether we wanted them or not. Virtually all of the tourists bought something. It was a way to support the local people directly even if you weren't interested.

June 30th, 2009
In Ho Chi Minh City, otherwise known as Saigon, I wanted to see how it had fared since the war and how Americans were perceived. I had grown up with the war on TV and it was such a part of my life and childhood that I wanted to know more about it from a different perspective. So I joined two tours in Southern Vietnam. First I went to see the Cu Chi Tunnels and the Caodai Temple and then I went to the Mekong Delta.

The Cu Chi Tunnels were built by the Viet Cong in South Vietnam during the war. The tunnels honeycombed Vietnam and many Viet Cong soldiers lived in them at least part of the time during the Vietnam war. Most of the tunnels were less than 2 feet tall. The VC never had enough food so the holes to go into them were very tiny and the soldiers crawled on their bellies to get from one room to another.

When we first arrived at the tunnels we were shown a Communist propaganda movie from about 1967. It told us about the sweet Viet Cong and their families and the American devils and their bombings. They said that morale was always high among the VC. It also told about their young heroes, and the feats that they had accomplished. We then went through a walk in the woods to see the many traps they had for killing the Americans. I won't say more than it was very gruesome.

Our guide was a Vietnamese man who had worked in communications with the Americans. The Communists sent him to a re-education camp after the war where he was tortured for three months and lost the use of three fingers on his left hand through electric shock. He was unable to work for many years because of his support for the Americans during the war and still has difficulties getting enough work even now, almost forty years later. Yet he appeared to talk with us totally freely about his life and attitude towards the Communists. Things were better now, people could own property and could speak freely.

We also went to see the Caodai Temple which is the most colorful church/temple I have ever seen. It is a religion that developed in Southern Vietnam in 1923 and takes a little bit of all of the major religions. Everyone wears white when they go to the temple. Church officials wear blue, gold, and maybe red colors as well.

A number of our guides on the Mekong Delta Tour talked about how happy all of the Vietnamese were. It almost sounded like a mantra or something that they were supposed to say. After the Communists took control in 1975 all businesses became government owned. People had no motivation to work hard at the government's businesses. Everyone made the same amount of money no matter how hard they worked. So businesses became privatized perhaps around1998 or so.

In the cities we saw many picturesque female vendors with poles on their shoulders with baskets of fruits at each end and cone shaped leaf hats. However picturesque they were to photograph they were exceedingly poor. In a controversial move the government banned these vendors saying that it was old fashioned. Almost everyone buys all kinds of food and objects from them even if they are in favor of the ban. These women would be close to starving or their children would not go to school without the money from their sales. The picture of the Vendor Restaurant on the right shows a pole vendor who has set up a typical restaurant on the sidewalk. On the right is a little stove. She and her clients sit on tiny stools and she prepares and cooks right from her baskets.

The Mekong Delta tour was beautiful. We took boats and saw floating villages, tropical plants, rice paddies, and all kinds of boats. I asked one of the guides if people were really happy like all of the other guides claimed. He said no, he didn't think so, but he wouldn't elaborate particularly beyond that people were poor.
Throughout Vietnam, Cambodia, and Thailand I ate more than my share of the crabs, fish, shrimp, and noodle soup. The food was wonderful. In Saigon I supported the local tailors and got wonderful new clothes to fit, a manicure, my teeth cleaned (for $20!), and a fantastic massage before flying off to Sweden. I can hardly wait to go back to Thailand and Vietnam. People were very friendly, the countryside incredible, and the food fantastic.

Unfortunately, I had no time to paint in Vietnam, but I have many photographs for inspiration. However I did have time to read and I would recommend the book, When Heaven and Earth Changed Places for an incredible inside view of the Vietnam/French/American wars from a Vietnamese girl's view.
June 30th, 2009
In my last blog I was in Khon Kaen Thailand and the Songkran Festival was just beginning. During the three days of Songkran we spent all of our time throwing buckets of water on everyone near us. They returned the favor by throwing water on us, sometimes laced with ice cubes. Since the weather was usually over 100 degrees it felt pretty good until about 6 p.m. when the temperature would drop suddenly and we would be cold and wet. Where I had been slightly sick with a cold before, I then got a sinus infection with a nasty cough.

My plan for Cambodia was to paint and to see the temples of Angkor Wat as well as having a vacation from my teaching and my travels. So I had my splurge week in a very beautiful $25 a night hotel with a swimming pool, massages and my own little bungalow. It was located among banana, mango, coconut and many other tropical fruit trees unknown in the US as well as an abundance of flowers. The first day I went out for antibiotics and other medicine and spent the rest of the day relaxing by the pool side, reading and got a massage. It was not very hard work.

I spent the next day in 100 degree heat climbing up and down the temples, walking all over. This was hard work! The third day I went to see the floating village. This was where the poor people who had no money for land got a boat and lived on the water. There were about 800 families in the floating village. The house boats were rag tag for the most part but the people had fish to eat. There was a floating school with a floating basket ball court, a floating church, and a floating restaurant with souvenirs for the tourists. I saw pigs living on their own raft with a fence. Dogs, children and plants all lived on the boats. While I doubt that this life is particularly idyllic it was still quite nice on the water and there was a strong sense of community and peacefulness.

I then went to the Landmine Museum and learned how the landmines are still hidden all over Cambodia. In the town you see many people missing arms, legs, or hands. These survivors sold books to tourists to support themselves and their families. Cambodian landmines are a major problem even now. The US is one of about 6 countries in the world that has not signed an agreement not to use landmines, and continues to make and sell them to other countries.

During the next few days I mostly stayed at my hotel, went swimming, read books, got massages, and painted. By the end of the week my sinus infection was gone. Just before leaving Cambodia I had my tuk tuk driver take me around the countryside, to photograph the villages, rice paddies, palm leaf houses and so forth. My driver stopped driving at one point to talk about poverty. He told me that the villagers often did not have enough food to eat, despite the rice paddies all around. Often large farms bought up the smaller ones. Education was not free so villagers were untrained for most jobs, and did not have money for schools for their children. For my driver, driving me around the countryside may have been like slumming it in the cities. Where I was seeing beautiful landscapes, Cadeye was seeing poverty. I started wondering if I was romanticizing poverty as I took photos of the palm leaf houses. While these mat houses on stilts were very ecologically sound, few of us would have wanted to actually live in one long term. I saw them as very cozy, with fresh air flowing through on hot days, they also were leaky in the rain and needed to be rebuilt every few years.
I only had one week in Cambodia and it was way too short to learn as much about the country as I would have liked.
April 9th, 2009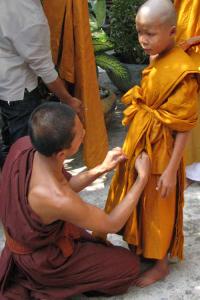 I am now in Khon Kaen, Thailand after spending a week teaching art to children in Bangkok. I am staying at a hostel for children who were orphaned in the tsunami, come from broken homes, extremely poor families or abusive ones. I teach for about 2 hours in the afternoon. I set out paint supplies and the kids come in when they feel like it and start painting until they feel like leaving. It is a lot of fun and the kids are very enjoyable to work with. I like Thailand a lot as it is a beautiful country, the food is terrific, people smile easily and are very friendly.

This week I have had the good fortune to participate in two different ceremonies and a holiday. The first ceremony occurred at the local Buddhist temple. It was to initiate boys into the monkhood. The program lasts a month but the teachings last for a lifetime. We had 9 boys from the hostel who went to the program. In the ceremony, the monk in the front talked a lot for a long time. We gave medicine to the temple and money to the children. To give the temple gifts we had to walk on our knees to the monks, put it on a special dish and then walk back kneeling. I carried one of the gifts. Most of the children did their part well of acting very serious and happy. One little child heaved great sobs and wanted to go home but did so quietly and a monk talked with him for a few minutes. The families of all of our boys came which was nice that each one had some sort of support. The families handed the boys their saffron robes. When it was time to give the children the money gifts we again did it from a kneeling position. We couldn't hand them the envelope of money, we had to drop it on their lap on a safron washcloth. Then they could accept it.

Yesterday was an awesome day. As I mentioned I am at a hostel for children. They have had English camp for the last two weeks here with three other volunteers. I have been teaching art, sometimes with English camp but usually only to the hostel children. Today was the last day of English camp and the first day of a 10 day water festival. Two of the volunteers were supposed to leave in a few days so they had a farewell party. The hostel leaders carried out a huge ceremony to honor and thank us for all of our work. First the children wrote and performed modern and traditional dances and skits. We did a karaoke song in Thai very badly. I did two magic tricks, one which worked and one which failed miserably. Certificates were handed out to every student for participating in English class and for the volunteers.

Then they had a ceremony to start off the Songkram festival. Those being honored, the four volunteers, the director, the founder, and another leader sat in chairs in the front. Scented water with yellow flowers was poured into our hands and we were garlanded with jasmine, and given a beautiful ring of jasmine buds with marigold on the streamers which is called a paungmalai. Each of the 100 students and staff filled a mug with the water and then went on their knees to each of us and poured the water into our hands as they said thanks or a prayer for us. We then made a prayer back or wished them good luck or a good year and put the water back on their heads or shoulders. It was a solemn ceremony until we put the water on their heads. When they got through doing this with all seven of us they could go and chase each other and pour water all over each other from buckets and pour baby powder on each other. Then they would come up from behind us while we ere still participating in the solemn part and pour water on our backs.

After we cleaned up we came back to the central room for dinner and their wecoming/thank you ceremony. The four of us were seated in the front of the room around a large vase filled with green leaves that had been rolled and put together into an extremely ornate sculpture called pandogmai. It had many many strings hanging from it. Candles were lit for the Buddha sculpture first and then for the pandogmai. The girls in traditional costumes did a welcome dance and asked the spirits to come into the room. The second dance was for when the spirit was in the room. We were given presents of T shirts. Then we were each given a sacred string by everyone in the room. Each string was tied around our wrist and a wish was made for us like good health, long life, and thanks for our teaching them. Some parents had arrived so we each got about 100 more good wishes and strings tied on our wrists. As they finished giving us the string they went to eat their food. I felt showered in love. The various ceremonies had lasted since 1 and continued until 7 or 8 pm.
It was quite a day.
I am going to a tribal village today which I am excited about. It is 140 km away and is very remote it sounds like. I will need to stay in someone's home.
January 30th, 2009
It has been bitterly cold here in Germany. Our room was fridgid when we arrived and took three days to warm up. So mostly I have painted in our room and taken a few trips to Berlin museums and galleries. I decided that we needed to go to a German sauna and warm up. There are more saunas in Germany than in any other country in the world. After an internet search I chose the Liquidron. It boasted five saunas, including a Finnish one, steamer rooms, hot salt baths and a nice atmosphere.

We paid at the door, got fluffy bathrobes, and towels. The woman behind the desk thought we would need two towels each, but the price was mounting higher each moment so we stuck with one. Did Ed need slippers? She said no. I think he would look geeky was her attitude.

We took our bundles and went to the male and female dressing rooms. However there was no wall between the two locker rooms so I am not sure why they bothered with 2 doors. You could see each other as you dressed. However, everyone was quiet, no one looked and only one person made contact with someone on the other side. We put on our swim suits, took showers and met in the hallway.

Men and women walked about in bathrobes, swimming suits, and wrapped towels. Some were naked. People were coming in and out of steamy saunas, cooling themselves on stone benches, and going in and out of open showers. Everyone was quietly pleasant minding their own business. To our relief we were ignored. For us this was a new experience. We didn't know the layout, customs and what order to do things. There were comfortable lounge chairs, and people sat or stood at the bar/restaurant. I was a little reassured. Not seeing the big pool I asked a passing worker where it might be. With a smile he pointed to a door at the end of the bar.

We opened a large black steel door into a darker room. We hung up our things and were now in a large pool area. The lights were low and soothing music played. We slipped into the salt water pool. We floated effortlessly on our backs listening to the music which was piped into the water. Blue and magenta lights shone onto the water and the colors were reflected onto the ceiling in a constantly changing pattern.

After relaxing for a while we decided to check out the saunas, steam rooms, and other pools. We became more relaxed. We found a sauna without anyone inside and went in. We probably picked the hottest one and within two minutes Ed had to leave. I stayed a bit longer. By now we were getting comfortable in the setting. We wandered about looking into steamer rooms, went outside in the cold and hung up our robes and went into the warm salt bath on the deck. The steam room was dark except for little lights on the floor. You sat on benches and the steam was so thick you couldn't see the faces or bodies of anyone. All you could see were knees to feet in the fog. Sometimes little cups of apple juice were set out and we replenished ourselves with that. Outside of the saunas there were stone foot baths and cold baths that you could plunge into. Next to them was a tray that looked like it had apple juice cups. I took one and discovered it was honey! Oh yes, I read something about rubbing honey on yourself somewhere. No one noticed that I had almost drank it. For three hours we went from one sauna, to showers, to steam rooms, back into pools and more showers.

Now that we were finally warmer than I had been in weeks it was time to head home. The night was dark as we headed back to the train. I thought the air was not nearly so cold as when we had arrived. We found the wrong train and took it. After mucking about for a while and standing on various cold platforms my warm glow started wearing off. Berlin really was every bit as cold as I remembered it. Two trains later we reached Potsdam. We had another twenty minute walk up the icey hill to our guesthouse and our cozy beds where we warmed up all over again.

January 25th, 2009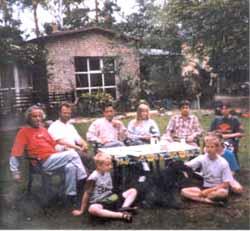 Recently though one of those quirks of fate I had the opportunity to make the acquaintance of Matthias and Ines Jurke. They live in the beautiful village of Wildenbuch, Germany. Their passion is to bring artists from all over the world to create art, meet each other and to become inspired. They do this by running a summer artist colony, called Atelier of Art. They started this colony many years ago and it has flourished and grown throughout the years.

In the colony both students and professional artists come to work, to exchange ideas and they become a part of the Jurke family. Creative activities flourish in the different living, working and exhibition rooms. The summer is an especially important time as artists become engaged in workshops, seminars and exhibitions. Throughout the summer the Atelier of Art hosts two artist residencies at a time for four to six weeks each. There are also symposiums where artists make an exchange of a painting or sculpture for free room and board. Workshops also occur lasting one or two weeks. Generally about 20 international artists participate in various programs culminating in about 10 exhibitions a year.
The Atelier of Art has guest houses based in a natural rural environment with numerous objects of art and sculptures set throughout. This atelier is located within half an hour of the world class artistic and cultural city of Berlin with its numerous museums, and cultural entertainment.
Matthias Jurke looks for generous, kind artists who are inspiring, and devoted to their art. He then invites those that he thinks will best fit in to come to Wildenbuch. Summer programs are still being planned. If you are interested in participating in these programs please contact Matthias Jurke.

Matthias Jurke's telephone in Germany is 49 033 205 44974 (There are more numbers than American phone numbers)
email atelier-of-art@gmx.de
Atelier of Art


January 2nd, 2009
Many of you have asked where we are in this incredible traveling year. I have just bought my tickets for the spring and can now answer some of these questions.

For those who didn't know, we have been here in Lund, Sweden for 5 months while Ed has done research on climate change 6000 years ago by looking at samples from Michigan peat bogs. I have of course been busy painting and meeting people who are interested in the arts.

Jan. 9th we take the train to Potsdam, Germany by way of Copenhagen and Frankfurt. My understanding is that the whole train goes onto a ferry at one point. Ed will be writing papers on his Indian research with his colleague Dan Harlov when we get to Potsdam.

Feb. 1 I fly to India to continue my work at Nirman, teach art and paint. March 8 is the festival of Holi where people throw colored powders all over each other's clothes and have great fun being silly.

March Ed goes back to the US. He will have a brief stay at our house, visit his family in Tennessee and go to St Paul, MN for more research and to learn some geologic research techniques. He will be there until late April I think. March 10th I go to Bangkok, Thailand where I will teach art at two different non profit organizations, one in Bangkok and the other in northern Thailand. These non profits deal with giving street children education and living skills.

Mid April I go to Ankor Wat in Cambodia for a week to see the ruins and paint. In late April I go to Hanoi.

May I will travel from Hanoi to Halong Bay and take a train south to the border of North and South Vietnam and then on to Ho Chi Minh City. I will have two weeks to paint and travel here. May 13 I fly back to Copenhagen and take the train back to Lund. I have an art exhibit lined up in the village of Bjarred for the end of May, into June and part of July. In late May, Ed will return to Lund, Sweden also to do more research as he wasn't able to finish up his work by January and he was getting very interesting results. So we will meet again.

Through the summer Ed and I will be in Sweden and hopefully make it north of the Artic Circle or to Europe for our vacation. We return to Holland, Michigan in August so that Ed can start preparing for his teaching schedule.

September I hope to have an exhibit in Holland, Michigan of some of my paintings and give some talks about my travels across the earth.

In October and November I will return to India again to work with Nirman helping the American students. I hope and plan to be back by Thanksgiving.

So it will be a while before we are back home and settled back in Holland. Please stay in touch with me. I love to get your emails and hear how you are doing and I always respond. While I am not a person who gets homesick very often, you are all on my mind and I think of you often.


January 2nd, 2009

For New Years Eve we went to the area behind the cathedral. in Lund, Sweden. The sky was cold and black and the 6th century cathedral was softly lit up on the outside showing off all of the little arches and columns, and the solid, tall, dark towers. To the north is the white stone bishop's palace with its giant fountain. To the Northeast and East are old red brick buildings that were once part of the cathedral community but are now part of the university. In the center of these very old buildings is an area about the size of a football field but is filled with the tallest trees you can imagine. Their bare, black branches are like a black lace ceiling under the night sky. The streets are cobblestone and the buildings outside of the area are half timbered medieval homes one one side or old stone stores on the other.

When we arrived, there were at least 1000 people there, mostly students in their very best clothes. The young women wore their tiniest black miniskirts, black tights or hose, and short black wool coats with dashing scarves. Instead of their usual tall boots they had to totter on the cobblestones in their exquisite, very high heels. The young men were dressed in very nice suits with or tuxedos also with dashing scarves, ascots, silk ties or bow ties. All were holding glasses of champagne, or bottles of vodka in one hand and the young men had fireworks in the other.

These were not your run of the mill fountains or fire crackers and spinners, these were the big ones that go way up high and turn into giant flowers. The crowd milled around everywhere and when you felt like putting off a firework you set it on the ground and lit it. If the crowd noticed, it moved away. I saw people with these long poles that shot fireworks out of the end. They just held the poles in the hand that didn't have their drink. There was an especially good display coming off of the roof of the student union building. The fireworks were like the "grand finale" that we have, and lasted about 10 minutes although people kept putting them off for a while after that. The the sky was lit up with the firework showers all around us and over our heads behind our black lace tree ceiling.

It made our 4th of July fireworks back home look tame. There the city puts all of the dangerous fireworks out on a boat in Lake Macatawa, with a huge cordoned area around them. We are all on shore with soft drinks in one hand and potato chips in the other. Instead of wandering about in our best clothes we are all wearing our old blue jeans while we lie on our backs under cozy blankets on the hill in Kollen Park which overlooks the water. It certainly would be interesting to see all of the young American people in their good clothes and their tuxedos on. There may be a trend for Americans to dress up more, but it has a long way to go before it comes close to the stylishness of the Swedish youth.